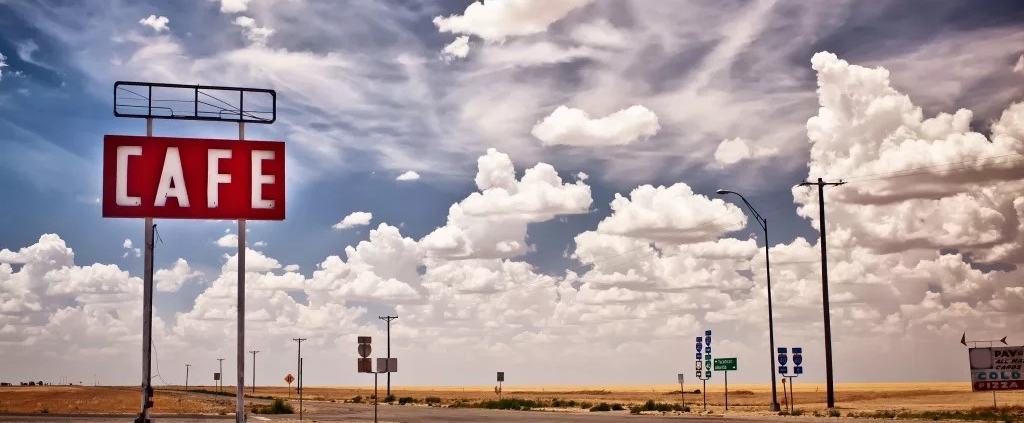 Tip Your Hat to Henry Ford
Whether your vintage ride of choice is a 1966 Corvette or a classic Mustang convertible, there's one man that deserved a nod of recognition, and that's Henry Ford. Without the Michigan-born tycoon, the road trip would simply not exist. In the 1920s, he embarked on a quest to bring middle-class Americans a car they could actually afford, revolutionising manufacturing in the process. His Model T Ford is the motor that changed the world, and soon became the car that most Americans learned to drive in.
The booming automobile industry catalysed the growth of America's roads, and the pipe dream of cruising along a multi-lane freeway from one side of the country to the other was closer than ever. In 1925, the American Association of State Highway Officials started planning a federal highway system – and the American road trip was born.
The First Roadside Eateries
In the 1920s, entrepreneurs realised that there was money to be made servicing America's growing community of drivers. The construction of roads such as US Route 40 (the Main Street of America) meant that motels and diners became vital, as ravenous motorists needed sustenance and somewhere to lay their head along their journeys. The first roadside food stalls were as basic as horse-drawn wagons, but proper buildings soon budded and transformed into colour as the roads became more frequented. Memorable motifs and striking signs were designed to catch the eye of passing travellers.
Texas invented the concept of the drive-in motor lunch with the first Pig Stand, serving brisket buns to hungry truckers in the Lone Star State. Over in California, the Tam O'Shanter became the first sandwich spot to employ 'tray boys' to provide curb service. Established in 1922, the diner is still run by the same family today as it was 96 years ago.
Depression Era Drive-Ins
Towards the end of the 1920s, Ford's plan had worked. With 23 million drivers in America, roadside food stands became standardised in terms of service and appearance. The term 'drive-in' became part and parcel of the American lexicon, and themed hamburger haunts like White Castle became commonplace. But then disaster struck.
The Great Depression, the worst economic downturn in history, lasted from 1929 – 1939, during which time, large diners became too expensive to run and build. A lot of things went back to basics. Road trippers relied on small makeshift cabins and dining carts to refuel. These tumbrils were trailered around specific sites or placed on trucks, and usually consisted of around ten seats. Some drive-ins and roadside restaurants in convenient locations survived the Depression because of their cheap eats and wholesome atmosphere.
Quintessential 1950s Diners
After the Great Depression and into the war years, the face of roadside diners and drive-ins changed dramatically. Throughout the 1940s, the lack of male labour and construction materials and food rationing meant it was extremely difficult for such establishments to stay afloat. You can only imagine how hard it was to run a diner when staples such as sugar and milk were in short supply. However, during this time women were able to show how indispensable they were to society. Although new diners were few and far between and menus were pared back, women made up most of the workforce behind the counter.
After the war, diners boomed again, and it's this iteration that we remain nostalgic over today. Booths were added, corners were softened to better cater to families, and kitsch stainless steel tubing and neon signage became the new normal. 'Mom and pop' diners appeared along the roads, serviced by carhops in fun uniforms. If you're cruising through Vermont, be sure to stop at Blue Benn. This 1950s diner is as authentic as it gets, with the diner car first assembled in 1948 and sat in the same exact spot ever since. You'll find booths with jukeboxes and delicious pancakes served with amazing maple syrup.
The Fall and Rise of the Retro Diner
Moving into the 1960s, the American diner fell out of fashion, with travellers preferring to refuel at the many emerging fast food establishments. Golden arches began sprouting up on every road imaginable, with speedy service and predictable menus appealing to the masses. By the late-1960s, diners and drive-ins sadly seemed like relics of the past. Contrary to popular belief, teenagers in cool cars brought little financial reward to such institutions, and many of them closed down.
In recent years however, travellers on both sides of the Atlantic have expressed a deep appreciation for classic diners. The rise of the American road trip for leisure purposes has brought with it a widespread effort to restore some of the kitsch memorabilia along classic roads such as the now defunct Route 66. Preserving historic gems such as Peggy Sue's diner (the famous marker of the halfway point between Los Angeles and Las Vegas) is important, allowing people to hark back to simpler times.
Source: https://www.alamo.co.uk/inspiration/history-of-roadside-diners-and-drive-ins/
https://www.visitusa.ie/wp-content/uploads/2019/06/Cafe_sign_along_Route_66_in_Texas_zagjhs_001.jpg
643
1024
Visit USA.ie
https://www.visitusa.ie/wp-content/uploads/2019/05/logo.jpg
Visit USA.ie
2019-05-03 13:11:35
2019-06-28 09:10:18
HISTORY OF USA ROADSIDE DINERS AND DRIVE-INS WITH ALAMO RENT A CAR