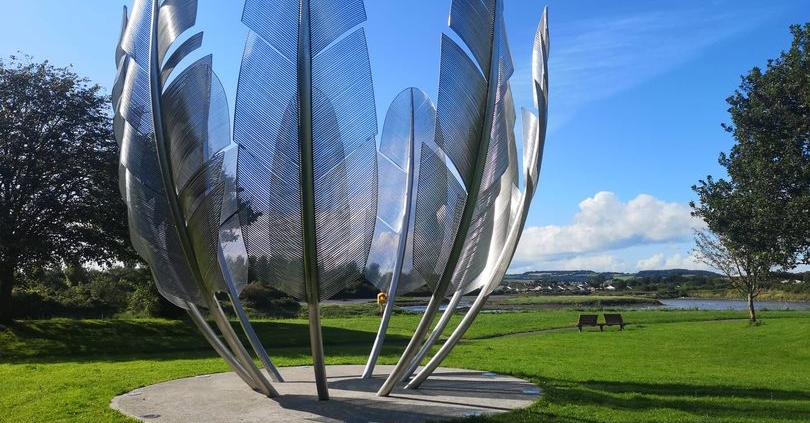 Kindred Spirits – the title of a stunning commemorative installation in Midleton, Co Cork – perfectly describes the longstanding relationship between the people of Ireland and the First Nations of what is now the USA. The stories of how that bond came about are many and varied, but surely none is more poignant than the gesture of solidarity by a group of oppressed, impoverished people 5,000 miles away, with the people of Ireland in their time of need.
More than 175 years ago, when the Irish were suffering through the Great Famine, in 1847 they were gifted with $170 (a considerable sum at that time) by the Choctaw people of what would become the state of Oklahoma, in the heartlands of the emerging USA. The aim of the Choctaws was simply to ease the suffering of fellow human beings, whose grinding poverty had struck a chord with the tribe. All the more remarkable, since they had just completed a gruelling forced march along the notorious Trail of Tears from their original lands in the south to US government reservations in the heartlands of the country.
Recorded on a brass plaque in the grand Entrance Hall of the Lord Mayor of Dublin's Mansion, the Choctaw peoples' generosity has become more widely known in recent years, and in June 2017 Kindred Spirits was erected in Midleton, Co Cork and dedicated at a moving and widely-attended ceremony by Chief of the Choctaw Nation Gary Batton. In 2022, a Choctaw delegation once again made the journey to Midleton to view it, as do an increasing number of Irish and international visitors.
And now Kindred Spirits – nine huge steel feathers in the shape of a cup, set amid the greenery of Bailick Park in the town – is to have a companion installation, across the Atlantic in Tuskahoma, Oklahoma.
The Choctaw Nation and Irish Government have revealed their plans for 'Eternal Heart', soon to be installed on Choctaw Capitol ground in Tuskahoma. Samuel Stitt, a member of the Choctaw Nation, submitted the winning design, combining a heart shape and a Celtic trinity cross. The heart will be specifically located to face toward Ireland, representing the eternal bond between the peoples of the two Nations.
The Choctaw Nation – with more than 220,000 tribal members and associates, the third-largest Indian Nation in the US, can trace their origins back more than 13,000 years and today – nearly 200 years after their gruelling journey along the Trail of Tears – they are a thriving community with a recently opened and impressive, interactive Cultural Center in their headquarters town of Durant / Calera, Oklahoma.
For international visitors young and old – not least those from Ireland -the Center is a 'must-visit' stop on any Oklahoma road trip.
https://www.visitusa.ie/wp-content/uploads/2023/08/2_chocktaw_feathers.jpg
539
810
Travel Oklahoma
https://www.visitusa.ie/wp-content/uploads/2019/05/logo.jpg
Travel Oklahoma
2023-08-20 15:08:44
2023-08-30 15:45:42
Kindred Spirits - The Irish & the Choctaw Nation of Oklahoma