Welcome to the Visit USA Travel Trade Training Hub.  This online resource is designed to help travel trade professionals in Ireland update and refresh their knowledge of the USA.
The Visit USA Committee Ireland has over 75 members, including airlines, tourist boards, car hire companies, hotels, airports and attractions. Many of these have created brief and engaging training videos for the Irish travel trade that can be viewed at a time and pace that suits you.
If you're looking for more information on any of the below, please contact info@visitusa.ie.
1. Capital Region USA
Immerse yourself in the authentic American experience by visiting Capital Region USA. From the memorable monuments of Washington, DC to the beautiful beaches and majestic mountains of Maryland and Virginia, history and natural beauty abound.
---
2. Aer Lingus
Aer Lingus is the flag carrier airline of Ireland and the second-largest airline in Ireland. Founded by the Irish government, it is now owned by International Airlines Group, the parent company of British Airways, Iberia and Vueling.
---
3. Greater Miami
Made legendary during the whimsical Art Deco era, Miami has evolved into the world's premier playground. From the exotic wildlife of the Everglades to the exciting nightlife of South Beach, from deep blue oceans to shallow emerald bay, Greater Miami offers visitors the best of all worlds – a destination where the cutting edge of urban chic coexists with the beauty and splendour of a tropical paradise.
---
4. Kentucky Tourism
Kentucky is the Horse Capital of the World, makers of 95% of the world's Bourbon, home to the longest cave system in the world, Mammoth Cave, and birthplace of Abraham Lincoln, Muhammad Ali and Bill Monroe, Father of Bluegrass Music. We also play host to large music festivals like ROMP and Forecastle and food festivals including the International Bar-B-Que Festival (Owensboro), Kentucky Bourbon Festival (Bardstown) and World Chicken Festival London. World renowned chefs and artists live and ply their trade here.
And Kentucky's outdoor adventures are spectacular from large lakes for boating and fishing to 12,000 miles of trails for hikers, bikers and equestrians to world-class rock climbing in Red River Gorge.
---
5. South Carolina
The state of South Carolina is full of vibrant culture, beautiful beaches, expert-caliber golf courses and much more. Southern hospitality is ingrained in every city, small town and front porch, and locals welcome tourists with open arms and a glass of sweet tea, or sweet tea vodka!
---
6. Bradley International Airport
Bradley International Airport is located in Connecticut, 20 minutes outside of Connecticut's capital city Hartford and Springfield in Western Massachusetts. For the fourth consecutive year Bradley International Airport has been voted one of the top 10 US airports by the readers of the Conde Nast Traveller. Bradley International is the second-largest airport in New England, having hosted nearly 7 million passengers through 2018.
Equidistant between Boston and New York Bradley International Airport is situated right in the heart of New England and is known for its convenience, ease of access and relaxed atmosphere.
---
7. Tennessee Tourism
Whether in exciting urban hubs or charming small towns, Tennessee offers authentic American experiences. Found in every tune played, every road traveled and every memory made.
---
8. Visit Tampa Bay
Unlock Tampa Bay, the heart of Florida's Gulf Coast. Discover blue skies and sunshine, a sparkling waterfront, world-class chefs, family fun, and a century of Cuban culture – all in Florida's most diverse travel destination. In Tampa Bay, our hospitality is as warm as our weather. Treasure awaits.
---
9. Experience Kissimmee
From thrills to tranquility, Kissimmee, Florida offers adventures, fun-filled days and some of the best attractions on earth. Moments from Orlando, a Kissimmee holiday will put you right in the middle of all the activities and attractions that turn family holidays into experiences that last a lifetime.
---
10. Visit Denver
Denver, Colorado is a walkable, outdoor city with 300 days of sunshine, brilliant blue skies and breathtaking mountain scenery. Denver is located at the base of the majestic Rocky Mountains, 5,280 feet (1,609 meters) above sea level – exactly one mile high – and offers urban adventures for all ages, spring, summer, fall or winter.
Explore The Mile High City without ever needing a car. Getting into the city center is easy with direct rail service from Denver International Airport to Denver Union Station, just steps from the 16th Street Mall free shuttle that runs through the heart of the city center. Here are more great reasons to visit Denver.
---
11. British Airways
Book flights online to all our destinations Worldwide. Fly from Dublin, Cork and Shannon to USA, Canada, Europe, Africa, Asia, Australia and South America.
---
12. Air France / KLM / Delta Air Lines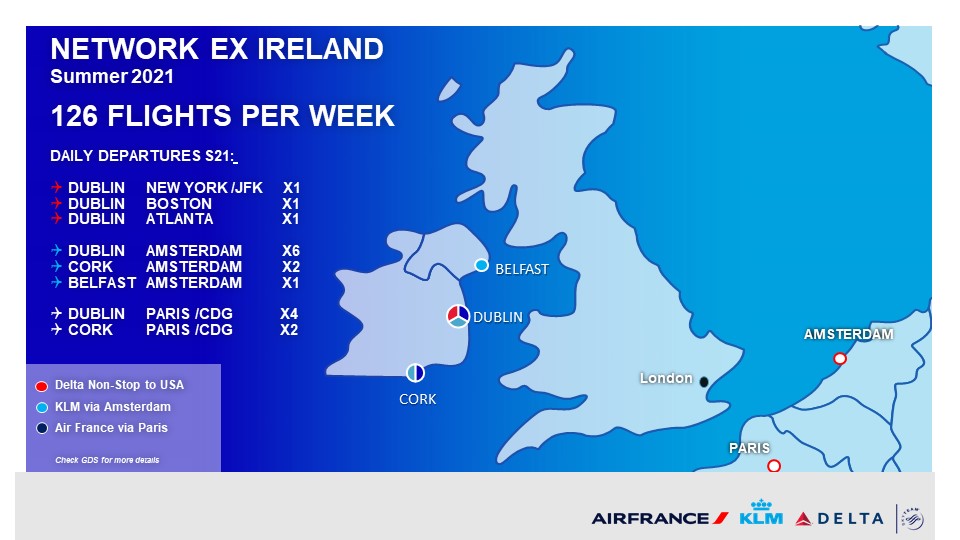 Air France
Fly with Air France from Dublin* or Cork via Paris to US destinations such as New York, Boston, Miami, Washington, San Francisco, Los Angeles, Houston, Dallas & Detroit and reach even more destinations with their partner airlines.
KLM
Fly KLM and experience seamless connections* to 12 destinations in the US and many more with our partner airlines.
*Flights via Amsterdam. Services from Cork to Amsterdam are operated by Aer Lingus in codeshare with KLM
Delta Air Lines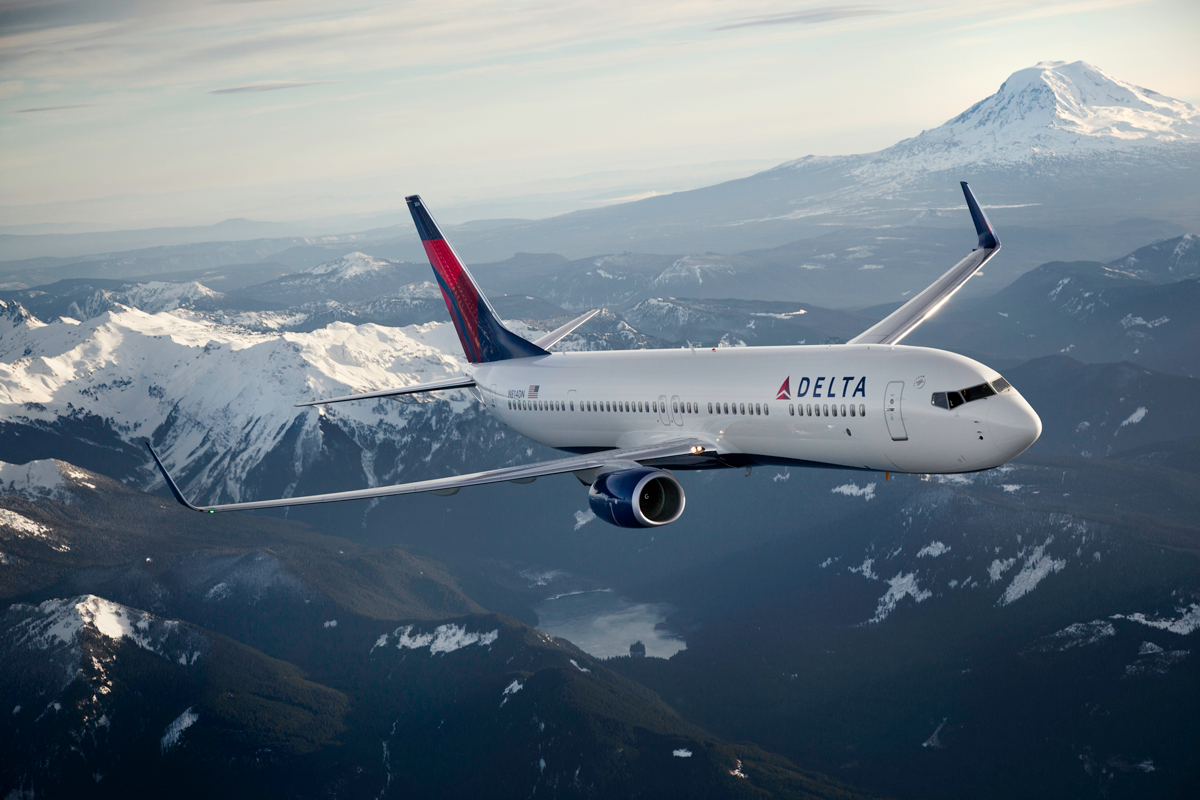 Delta Air Lines serves more than 180 million customers each year. In 2018, Delta was named to Fortune's top 50 Most Admired Companies in addition to being named the most admired airline for the seventh time in eight years. Additionally, Delta was named Best Long-Haul Airline at the 2019 Business Travel Awards, UK Airline of the Year by TTG Media, Selling Travel's Best Airline to North America and Business Traveller's Best North American Airline.
Delta Care Standard
Delta is ensuring clean surfaces across the customer travel journey and offering a close look at the processes and products that provide an industry-leading approach to cleanliness.
Click here for more information.
---
13. Utah
Utah is a place where cities, mountains, rivers and cultures converge. With five national parks, 44 state parks, six national forests, seven national monuments, 14 ski areas, deserts and mountains, Utah's scenic and recreational opportunities are unlimited. From the red rocks of southern Utah's Mighty Five ® national parks (Arches, Bryce Canyon, Canyonlands, Capitol Reef and Zion) to the Greatest Snow on Earth®, Utah is jam-packed with jaw-dropping landscapes and world-class outdoor adventures that are just waiting to be explored.
---
14. Philadelphia

Fall in love with Philadelphia, the first World Heritage City in the U.S and second-largest city on the East Coast. Visit Independence Hall, a UNESCO World Heritage Site, and the Liberty Bell, two of 67 National Historical Landmarks in a walkable, charming, colonial neighborhood with cobblestone streets.
---
15. North Carolina

As North Carolina's official travel and tourism tourist board, we have everything you need to plan your next trip, weekend getaway or family vacation.
Whether you're looking for adventure or relaxation, mountains or beaches, the rhythm of city life or the tranquility of nature, you'll find it all in North Carolina.
---
16. Maverick Aviation
Industry entrepreneur Greg Rochna had a vision to create a company that would provide a true VIP-level experience not previously offered in the helicopter industry. In December of 1995, he did just that by launching Maverick Helicopters in the tourism capital of the world, Las Vegas — a destination known for high rollers and over-the-top service. Greg and his wife, Brenda launched Maverick Helicopters with a mission to provide the finest level of service as expected by the VIP guests of the resorts and hotels in the City of Entertainment. Their efforts have been realized with the support of many including past guests, the hospitality industry and dedicated team members.
---
17. Los Angeles Tourism

Los Angeles is a dynamic, ever-evolving destination – where diversity thrives, and everyone is welcome. Discover the true L.A. by exploring its more than 30 culturally rich neighbourhoods, each one offering a distinct vibe. Home to 300 days of warm sunshine, 75 miles of idyllic shoreline, more museums than any other U.S. city, and an innovative culinary scene led by influential tastemakers, L.A. presents limitless possibilities for every taste and interest. Los Angeles is the epicentre of the sports universe as host of the 2022 Super Bowl, 2023 College Football Playoff National Championship and 2028 World Olympics. The positive energy, air of optimism, feeling that anything is possible – that's why more than 50 million visitors are drawn to the L.A. experience every year.
---
18. Visit Orlando
Home to eight of the world's top theme parks, Orlando — Theme Park Capital of the World — is the No. 1 family holiday destination and the most visited destination in the United States. An unparalleled mix of unique experiences create cherished memories for visitors, including legendary theme parks from Walt Disney World ® Resort, Universal Orlando Resort, SeaWorld ® Orlando and LEGOLAND ® Florida Resort.
Orlando also boasts an array of world-class water parks, entertainment venues and an award-winning food scene encompassing more than 5,000 restaurants, plus shopping, sports, nightlife, and a burgeoning arts & culture community. And with more than 450 hotels, Orlando offers more lodging options than nearly any other destination in the world, from expansive resorts to uniquely themed hotels.
Virtual FAM Trip
Check out the Visit Orlando Virtual FAM Trip at the links below…
---
19. Memphis Tourism
Memphis is all about authenticity and creativity from the music to the cuisine and the culture. The list of A sides is long and storied from Beale Street to Sun Studio to Stax and Elvis' Graceland.
---
20. Discover New England

New England — the birthplace of America — is filled with a rich history, cultural attractions, fascinating cities, scenic villages, and outdoor adventures at every turn.
Discover white-sand beaches, and lighthouses, brilliant fall foliage, expansive lakes, panoramic mountain views, and dockside restaurants with delicious seafood chowder, lobster, and blueberry pie.
Discover why visitors travel back to New England again and again…
---
21. Atlantic City
From New Jersey's tallest lighthouse to deep-sea fishing, and everything in between, you can always find exciting things to do in Atlantic City, New Jersey.
Relaxing at one of the Atlantic City casino spas, the excitement of 24/7 gaming, the thrill of a royal flush or finding a new pair of shoes, the sand in between your toes or visiting one of the many attractions – whatever your pleasure, it is always more pleasurable in AC.
---
22. Travel Oklahoma
Oklahoma is at the 'heart' of the USA on the Great Plains – the wide grasslands between the Mississippi River and the Rocky Mountains, offering a large range of very special natural and cultural experiences plus warm hospitality. People are welcoming, caring and witty at the same time, and cowboys and Native American Indians are not a tourist attraction, but part of everyday life.
---
23. Universal Orlando Resort
We Can't Wait to See You Again. We miss you. Like real bad. We miss your 'let's do this' look and the way your laugh turns to a scream, to a cry, and back into a laugh. We're finally ready to roll out the red carpet and kick open our gates. We're back—and can't wait until you are too. We've added new guidelines throughout the resort to get the good times going again. Things like social distancing, health screenings, and sanitizing. For details visit www.universalpartnercommunity.com
---
24. United Airlines
In collaboration with @Clorox and @Cleveland Clinic, our goal is to deliver industry-leading cleanliness and safety procedures meant to keep you, your loved ones and our employees safe throughout the travel experience.
https://www.visitusa.ie/wp-content/uploads/2020/03/flag-1291945_1920.jpg
1345
1920
tony.visitusa
https://www.visitusa.ie/wp-content/uploads/2019/05/logo.jpg
tony.visitusa
2020-12-11 10:45:24
2021-01-11 14:58:51
Travel Trade Training Hub